I could list 20 or so sports stars who make social media look easy, some manage their own accounts, and some will probably use a social media manager or even an agency to help with their ideas for content and branding. Indeed not a bad thing especially if they get it right. 
All of the athletes in my blog today, I'm sure post their own content if you're reading guys correct me if I'm wrong.
I'm not going to list 20 sports stars this time around; otherwise, we could be here all day, I'll stick with four UK athletes who I follow and inspire me to get my fat ass to the gym as much as possible, 
and I also enjoy what they do on their social platforms.
​​​​​​​
1 Eddie Hall - 2017 Worlds Strongest Man
Maybe some of you reading this may not have heard of Eddie Hall the 2017 Worlds Strongest Man. Another athlete or should I say,
'super athlete'
 who is on his  A-game when it comes to
Instagram
and
Facebook
, massive following across both platforms. 
Eddie has a mix of authentic content with a blend of his incredible feats of strength and his personal life with family and friends. Eddie is an inspiration to thousands of fitness fans across the world.
2 Tyson Fury - Boxer
Controversial maybe or social media genius?
I'm the first one to put my hand up and say, "I wasn't a fan of Tyson a little while back," but the new rejuvenated Fury is someone to look up to, quite literally as he's 6ft 9. If there's one person on
Twitter
to get a heated discussion going then that man is Tyson, whether he's baiting other fighters or just throwing random things out there, he knows how to start the comments rolling, good or bad. His short sharp and sometimes brutal straight to camera videos from his car are spot on, add a few training videos and Tyson will hit one million Twitter followers sometime this year. 
3 James Haskell - England and Northampton rugby player
If you're not following James you need to, he loves a laugh online does James, but also sets the bar pretty high when it comes to promotion of his brand and brands associated with him. His
Instagram
game is on point, great pics, fun videos and plenty of banter with his partner Chloe, a real mix of all sorts. James loves JCB's as well.
4 Gemma Atkinson - Actress and fitness blogger
I was a little unsure to include Gemma in my list as a sports star/athlete/dog lover or if she classes herself as a fitness queen or guru (I'm not a fan of the word guru) so I went with fitness
blogger
. (hope that's OK?)
Gemma indeed produces excellent content on
Twitter
, and her 
Instagram. 
Her IG Stories are fun, some great content regarding her charity work, her new radio station presenting role and Gemma's new clothing line is impressive. Just Google 'Gemma Atkinson' and you'll see tons of recent coverage in the mainstream press over the last week or so. I'm sure if she could fit it in to her busy lifestyle, Gemma would make a fantastic female Marvel superhero character - but which one?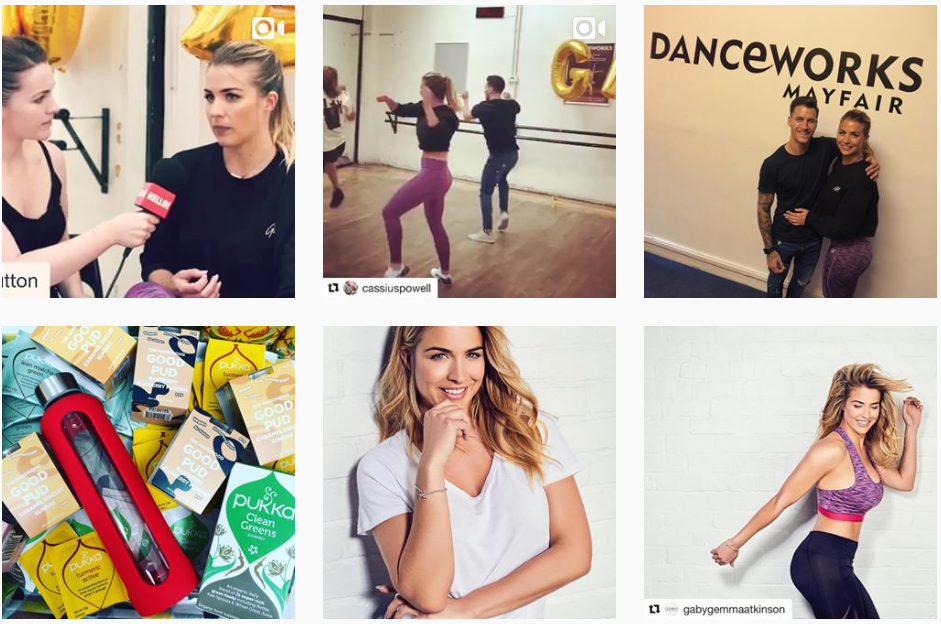 The four I chose certainly inspire a lot of people including me, they keep it real and fun which is what social media is all about - be as social as you can, I read a lot of different articles about keeping your social media life separate from your personal life, I really do think that is difficult especially when you have a huge following. I'm sure the guys don't post everything they do or get up to, but you do get a feeling that what they do post is as close as you're going to get to a
'fly on the wall'
look at their daily lives through social media.
Who inspires you on social media? Let me know.